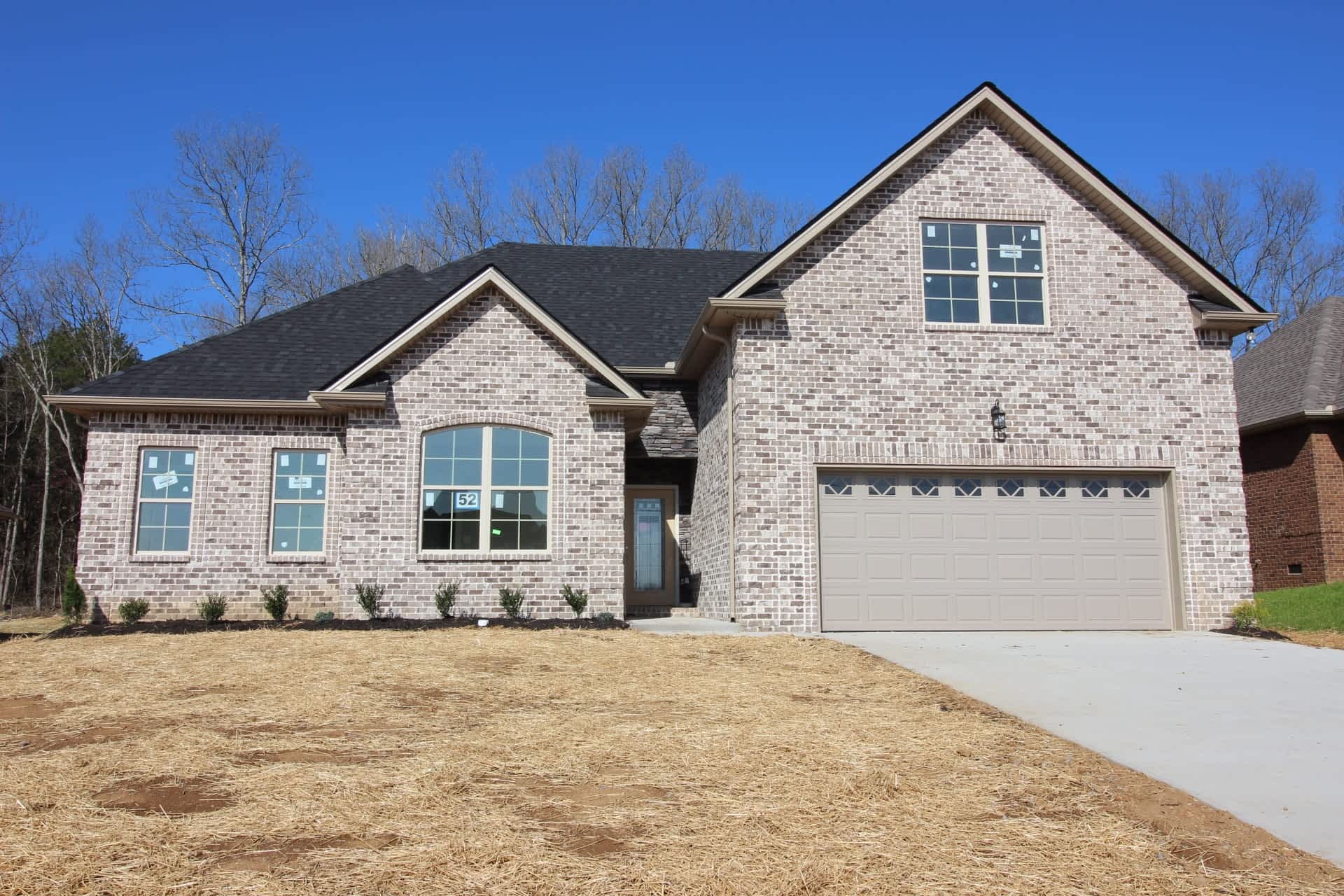 Lawson Plan – Not the Actual Home
Main Floor:
Second Floor: None
Total Square Feet:  1,850
MLS Number:
Price:  $318,900
Lot 120 Villages of Greentree
5707 Reflection Rd.
Smyrna, TN 37167
Lot Size:
County:  Rutherford
Floor Plan:  Lawson
Builder:  Scott Butler Homes
Earnest Money Required:  $2,500
Annual Taxes:  Est. $2,400
Fence: No
Basement:  No
Master:  Full Bath / Main
Fireplace:  No
Directions: I-24 (from Nashville) to Sam Ridley Pkwy., exit 66A, Left on Blair Road, Left on Rock prings Rd., Right into Greentree Subdivision. Right on Endurance Lane. Go all the way until you see new construction homes being built.
Interior Photos at bottom of this page of another home. Builder chooses all exterior colors.
INTERIOR
3 Bedrooms
2 Baths
Bonus Room - Finished
Ceiling Fan in Bonus Room
Ceiling Fan in Great Room
Ceiling Fan in Master
Master Main Floor
Garden Tub with Separate Fiberglass Shower
Walk In Closet
Double Sinks in Master
Single Sinks in all other Baths
Deadbolts on Front and Rear door
Granite Kitchen Counters Included
EXTERIOR
Construction: Brick Front / Vinyl 3 Sides
Garage:  2 Car
Garage Door Openers:  2
Driveway:  2 Car
Driveway Material:  Concrete
2 Exterior Hose Bibs
Lawn Seeded & Strawed
Concrete Patio or Sundeck

APPLIANCES
Color:  Stainless
Stove; Electric
Microwave
Dishwasher
Disposal
Click Here to See Appliances

FLOORING

Carpet:  Hallway, Steps & Bdrms
Hardwood: Great Room & Kitchen
Tile: Baths
Note:  All Slabs will have engineered lumber for flooring. Crawlspace will have hardwood flooring.
Click Here for Flooring
If you would like to receive a notice when we are ready to start more homes in Greentree, fill out the information below.
Room sizes may vary on job site! Rooms are measured after drywall is installed. All measurements are rounded to the nearest whole number. Date Measured:  Not Measured Yet
| | |
| --- | --- |
| Great Room | 15 x 16 |
| Kitchen | 10 x 19 |
| Dining | Eat In |
| Master Bdrm | 14 x 12 |
| Bedroom 2 | 11 x 11 |
| Bedroom 3 | 11 x 11 |
| Bedroom 4 | None |
| Bonus | 13 x 21 |
Property taxes shown are a new construction estimate.  Purchaser to verify with lender and/or title company prior to sales agreement.
Submit lender pre-approval letter with offer. No home is taken off the market without a lender pre-approval letter.
PUD Information
PUD Name:  YES
Annual Dues:  $180.00 / $15 month
Start Up Fee:  $250.00
Paid: Annually
Amenities:  None
Fee Covers:  Cutting Grass in Common Area
Building Progress - Stage of Home - Lot 120
Last Updated 4/17/20

Building schedules are typically dictated by codes inspections, sub contractor availability and of course, the weather. For this reason, Realtors & Buyers are not given any building schedule. Realtors can only report what has already been completed.
Complete - Footer
Need - Slab Plumbing
Need - Block Complete
Need - Framing 
Need - Roof Shingles
Need - Windows Installed
Need - Rough In Plumbing
Need - Rough in Electric
Need - Rough in Heat & Air
Need - Wall Batt Insulation
Need - Drywall Installed
Need - Brick or Stone
Need - Siding Installed
Need - Final Front Door
Need - Interior Trim Installed
Need - Interior Walls Painted
Need - Ceramic Floor Installed
Need - Cabinets Installed
Need - Kitchen Counters Installed
Need - Bath Counters Installed
Need - Sinks Installed
Need - Toilets Installed
Need - Interior Railings Installed
Need - Driveway Installed
Need - Garage Door Installed
Need - Deck or Patio
Need - Light Fixtures / Fans Installed
Need - Door Knobs & Shelving Installed
Need - Mirrors Installed
Need - Plumbing Fixtures Installed
Need - Laminate Installed
Need - Carpet Installed
Need - Front Door Painted
Need - House Cleaned
Need - Yard Graded
Need - Yard Seeded & Strawed
Need - Gutters Installed
Need - Stove Installed
Measurements and square footage shown are APPROXIMATE.  Changes sometimes occur during construction.  Please see specific house for exact measurements and square footage.  When photos and/or renderings are shown of another home, they are shown for illustration purposes only.  Unless it is specifically stated in your agreement, an item may or may not be included or be built as shown.  If you have a specific concern, please address prior to contract agreement.  Seller reserves the right to change any utilities, fixtures, doors, windows, placement of walls, railings, front porch columns, cabinets, counter tops, etc, at any time during construction. Seller reserves the right to increase prices at any time without notice or prior obligation.
Verify all room sizes and square footage if a concern prior to agreement. All final square footage is determined at time of appraisal. Completion date shown is an estimate only, time could vary depending on weather, supply and subcontractor availability.  Tax amount shown is a new construction estimate.  Please consult with your title company for a more accurate amount.
All sales and marketing information is deemed reliable, but not guaranteed.  If any matters are of specific concern, it is up to the consumer to obtain independent advice or information.  Seller and/or agent will not be held liable.
All advertising will show a garage and/or placement for a driveway.  Trees, Codes, water and sewer lines, topo of the lot, and rock must all be considered. Builder determines the location of the driveway, and if any plan needs to be "flipped", to accommodate these items.  "Because you see the garage on the left or right on our website or drawings, does not necessarily mean the garage will be on that side when built."
Compensation is not paid on any seller concessions; (closing cost or title).